Submitted by

Kevin Warfel

on Tue, 2017-03-21 11:51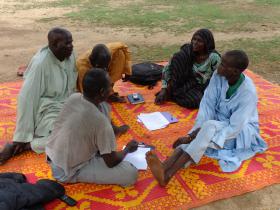 (July 2016) SIL Chad is partnering with FAPLG (Fédération des Associations de Promotion des Langues du Guéra) to meet the linguistic needs of the 25+ language communities in the Guéra Region. In July of this year, Rapid Word Collection (RWC) consultant Kevin Warfel led a workshop for one of those languages. Both FAPLG and SIL personnel were trained so they can conduct and teach similar workshops in other Guéra languages in the future.
On the fifth day of the workshop, two government officials, who are involved in language promotion, stopped by to see how the workshop was progressing. Everyone was thrilled to point to the progress meter showing that 7000 words had already been collected!
After hearing about and seeing what was going on, one of the officials—whose roots are in the Guéra Region—stated that his language should be the next one to benefit from this newly learned technique.

 By the end of the workshop, 13,084 words had been collected—more than most had dared to hope to achieve.
More on this topic can be found in this article on sil.org.