Kevin Warfel

在 周一, 2017-03-20 16:34 提交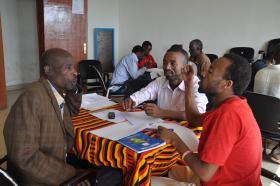 (March 2015) Two communities in Ethiopia recently began the process of dictionary development. Mother-tongue speakers of Gwama and Koorete partnered with SIL's Dictionary & Lexicography Services team and SIL Ethiopia to organize Rapid Word Collection (RWC) workshops.
For more details on these workshops, read the article on SIL's website.